Core Values
Here are the beliefs and values that guide us in everything we do, both public and private.
At Awesome Motive, we operate with a set of guiding beliefs and values that define who we are. Our beliefs are the basis for everything we do, and our values define how we work together to live up to our beliefs.
Our beliefs are universal truths that shouldn't change over time. They were true when we started, they are true today, and they will be true 50 years from now.
We are building a generational company, so it's important that everything we do must be purpose driven. While our mission is to help small businesses grow & compete with the big guys, behind every business there are people. Our purpose is to empower people to succeed by leveling the playing field.
Our Beliefs
We believe that you deserve more.
We believe that you should succeed.
We believe that you should win more often.
We are committed to partnering with you to achieve your definition of success.
And we don't stop at just your success – we want you to get there knowing you've had the best team supporting you at each step of the journey.
This is what we believe for our customers, this is what we believe for our team, and this is what we believe for the world.
This is why we do what we do, every single day, with a bright smile on our faces.
Our Values
Unlike giant corporations who have a poster wall full of random words, we only have five key core values that allow us to make better decisions to serve our customers and our team.
We put People First, always.
All businesses are built by people (our team) for people (our customers). This is why we must put people first in everything we do from a small product feature to the biggest company decisions. We're a friendly bunch … no jerks allowed!
We Do The Right Thing every time.
When it's right for the people, the company, and you're proud of the decision, then it's the right thing. Sometimes doing the right thing is hard, but doing it over is harder. This is why we must always do the right thing, every time.
We fight for our
Customer's Success.
Our customers have a lot of trust in us, and we are grateful for our role in our customers' lives. We only win when they win, so it is our duty to go above and beyond to do the right thing and help our customers succeed.
We commit to
excellence by paying
Attention to Details.
We are high-performers, and we take pride in what we do. This is why we give all our effort and energy to not just the first 98%, but also the last 2% by paying attention to every little detail, so we can make our customers and families proud.
We labor for
Simplicity.
We believe that complexity is the enemy of execution. This is why we always labor for simplicity. Whether it's in our products or our processes, we go the extra mile to ensure we're always making things simpler. No useless meetings, no wasting time.
We truly believe that we're building a different kind of company. Our success today is only possible because of our unique values that guide us in everything we do, both public and private.
Unlike most companies of our size, we're fully bootstrapped (no investors). This freedom allows us to always stay true to our beliefs and values, so we can always continue to put People First, both our team and our customers.
Join us and Make Cool Stuff from Anywhere!
Awesome Motive products are seen by billions of internet users every month. Being a fully remote company, we've enabled ourselves to create an absolute dream team to help shape the web for billions worldwide.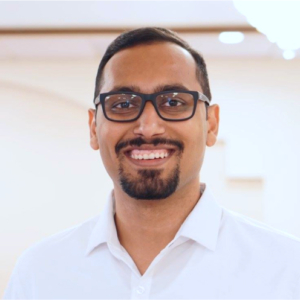 When someone tells you it can't be done, it's more a reflection of their limitations, not yours!

Syed Balkhi

Founder & CEO of Awesome Motive